Back in February, Facebook announced a redesign for business pages on their platform.
Up to now it has been available as a voluntary upgrade but on March 10th 2011, it will be rolled out to all business pages. Let's take a look at what will be changing:
Tab Applications will move to the sidebar
This means that those lovely Facebook apps that everybody has alongside their "Wall" and "Info" tabs will be moving to the left hand side under the display picture of the page. Users will navigate between views/apps using the different options in what now looks like a menu for the page.
Photo strip at the top of the page
Just like with the changed profiles, Pages will now also have a photo strip placed horizontally across the top of the page that will display photos  by those most recently tagged with the brand/business.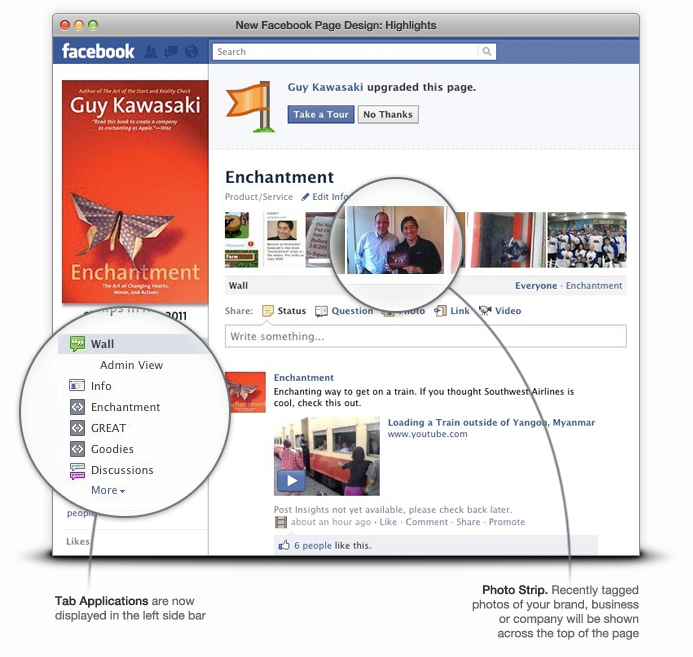 Profile picture reduced
The new design will only allow pictures that are 180 x 540 pixels and not 200 x 600. That is all.
Info box relocation
That little one paragraph descriptive blurb about the Page which was previously right underneath the display picture has been removed and placed in the "Info" section.
Pages liking Pages
Again, much like profiles, Facebook Pages will now have the ability to "like" other pages. This means that the admin of the page will also be able to monitor likes in the stream.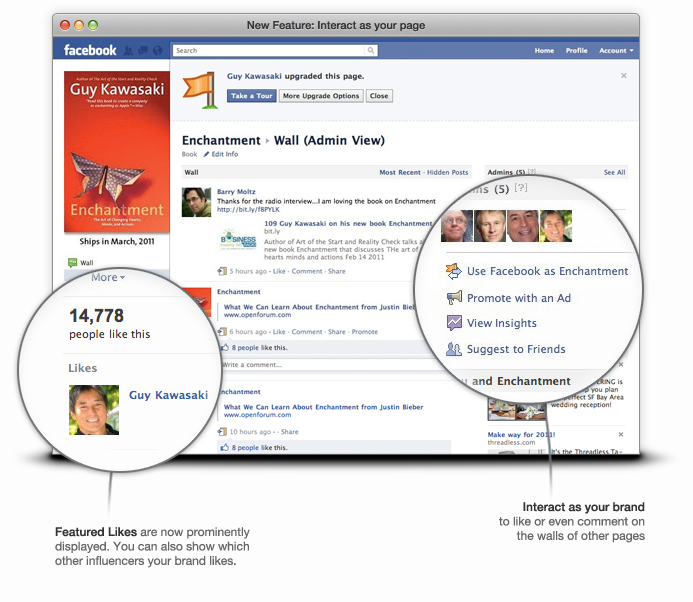 Act as a Page
The most interesting feature is the newly provided ability to actually post and comment on other pages as the page itself. This has sparked a bit of  a concern by some people, but no doubt is a much sought after feature by many.
Editable Page Category
Previously, you had to select a particular category on Facebook about where your believed your Page needed to sit without the ability to change it. Now, you can.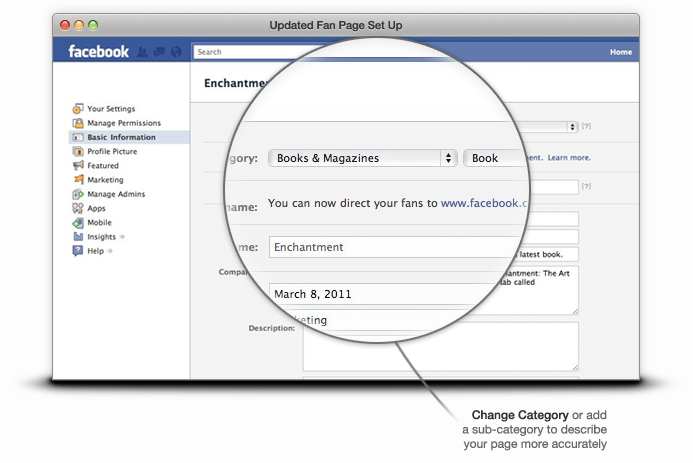 De-cluttering the wall
Page admins and users can now set the wall to display posts made either be "Everyone" or just those made by the "Page." This can allow a user to respond to something the Page has written by filtering out only their posts and not have to read through other users' multiple posts.
Mutual Friends & Mutual Interests
The newly design has the Page's  "feature" sections on the right display Mutual Friends (that also like the page) and mutual interests (between the visiting user and the Page's "Liked" pages.) Confused? Just re-read that sentence slowly.
New notification system for Page Admins (our favourite!)
As a Page admin, you'll be able to set up notifications of page activity that go to your email, such as any new Wall posts made by fans.  There will also be a great deal of moderation/spam settings available which provide you with the ability to specify certain words or terms to block when somebody tries to write them on your Facebook Page.  This will remove the ability for spammers (or competition) to post on your wall with information that may be damaging to your brand. It basically gives you command to govern your page and do something about bad/troublesome/misbehaving fans.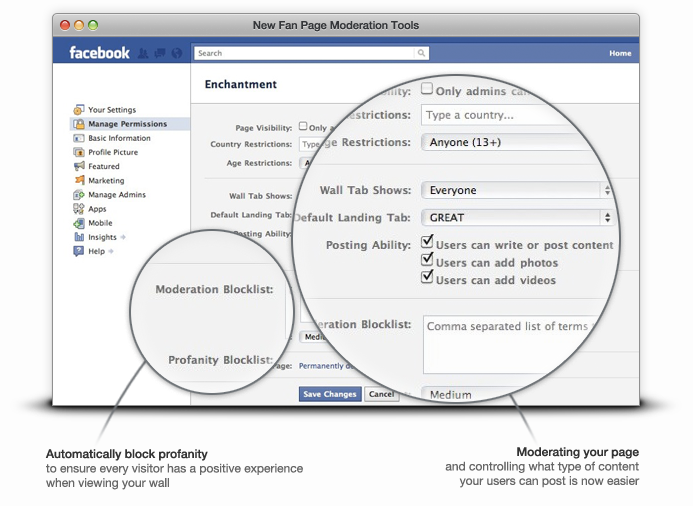 iFrame Support
Eventually, Facebook will get rid of FBML as their development focus moves to iFrames for business Pages. This means that the way developers build on blank canvases, will be mimicked for Facebook Pages and allow greater creative control allowing for more interactive and intuitive page designs.
If you're keen on reading more about the new Facebook Page design, you can do so here.
And until the next inevitable change, keep your page clean, relevant, engaging and fresh.
Images courtesy of Wildfire app.