We're pleased to announce a couple of very small, but a very useful features to MyGuestlist.
Firstly, Calendar integration.
This feature allows your MyGuestlist calendar to be synced with your favorite calendaring program.  Google's Calendar, Outlook's Calendar and Apple's iCal all get some love amongst others.
To access this feature, click the Calendar Integration link under the bright green My Account section.
Click on Create New Calendar.
Give it a name.
Select the Events you wish to Sync
Then Click on Create Calendar
The resulting URL (which is an .ics file) is what's needed to be imported into your calendaring program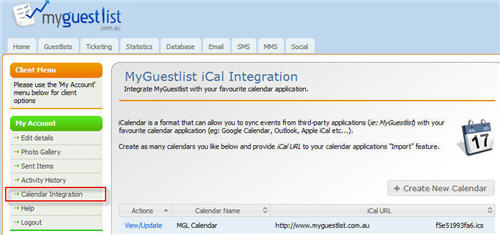 Secondly, Advanced Search.
You can now create and save you own custom Searches using the new Advanced Search option located in the Database section, directly under the bright orange Manage Categories button (located in the top left).
Clicking this link will allow you create custom searches using super easy "click to select" data fields (name, age, favourite drink, etc) and saving this search means you don't have to select the fields each time you run this.  You'll also be glad to know that you can name these searches, have well more than one, and you can edit them at any time.
With ultra simple search options that include "greater or less than" (for age) "starts or ends with" (for names) "equals or does not equal" (for ages or names) and a whole swag of others, you can be sure to get the right information you want, first time every time and if you've ever created a smart playlist in iTunes, you'll feel right at home.